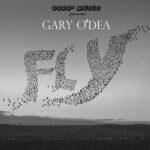 FLY the brand new album from singer/songwriter Gary O'Dea takes you on a musical journey from solo acoustic folky pop, to fusions of funk n bhangra, soul, blues, cajun and jazz …oh and there's a choir thrown in as well…expertly cooked up to provide a nourishing dish to soothe your soul in these troubled times. It features some of the West Midlands finest musical talent and is co produced by noted folk rock singer / songwriter Eddy Morton (The Bushburys).
'It may be the experience of working both solo and with bands, but the new material appears in the form of a variety of songs and arrangements in styles showing he has a few strings to his bow…there's more to Gary O'Dea than a voice and a guitar.' 8/10 Michael Ainscoe – Louder Than War Review 
http://louderthanwar.com/gary-odea-fly-album-review/
'deftly written songs and beautifully rounded instrumental presentation'…I felt the record had ended all too soon.' Maurice Hope – Flying Shoes Review / The Medicine Show
'Some people make it look all to easy and that's the impression across O'Dea's latest album FLY as he relaxes into a set of tunes that are catchy and compelling in equal parts…O'Dea's acoustic guitar and vocals display a directness and honesty that draws the listener into the heart of each song.' Trevor Taggatt – R2 (Rock n Reel) 4**** Nov / Dec 2015.
'pure gold…makes no attempt to censor his views or passion…strong, charming and deep to the point…I strongly recommend that you hear this album.' 
Nick J Townsend – Ryan's Gig Guide 'Album Of The Month' Oct 2015
http://www.ryansgigguide.com/2015/October/#14
'Expressive and skilful slice of life songs from West Midlands troubadour with knack for multi flavoured musical uplift. ' Gavin Martin – Daily Mirror 4**** 4-9-15
I hope you all enjoy this collection of songs 'in the key of love'…because it really is All You Need…FLY