GOJO' MUSIC presents musician / singer / songwriter
Gary O'Dea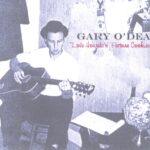 CD/Album: Love Hounds & Fortune Cookies (1999)
Dedicated to the memory of Ronnie 'Plonk' Lane.
A collection of songs from Gary's days with The Love Hounds (1986-90) and The Fortune Cookies (1995) are combined on 'Love Hounds n' Fortune Cookies'.
The CD was originally released via the Birmingham based 'Snooks Records /Anew Music label in 1999. Now re-released in 2007 via Gary's own GOJO' MUSIC label.
Review / quotes:
'melodic country rock, all done with perfect execution… perfect material for the intelligent consumer.' Making Music.
'excellent collection…touches similar places to Ronnie Lane's Slim Chance' The Beat.
'Jason & The Scorchers / Steve Earle / Faces country – rock. Great.' Highway 61 Web Site.
'Love Hounds…is a calling card announcing an artist of considerable class and distinction.'
Rock 'n' Reel.
'Eight out of the eleven tracks have been self penned by Gary and he co-wrote the other three. He is a great singer / songwriter…This is a CD that would be very much to the taste of the Country Rock Fan.' North Country Music.
Okay, firstly I need to admit that until very recently, I hadn't actually heard of Gary O'Dea. That all changed however when I had a couple of CDs thrust into my hand along with some mention of reviewing for a web site. Well, before I had a chance to confess that I didn't have a clue about reviewing anything, my reservations were pre empted with "just have a listen I think you'll like them". So, listen I did, and like them – I really did. Love Hounds and Fortune Cookies opens with a really rootsy kind of country rock track – "Dream on" – loads of fab classic 'tube tone' guitars and rockin' piano. Unlike some CDs I have heard that start really promising and quickly decline into the mundane, this one continues to impress throughout (well it did me) with rich mixture songs and melodies that clearly deserve a wider audience. Love Hounds n' Fortune Cookies is clearly the product of many years labour. A collection of original songs, a host of first rate musicians and arrangements that would be the envy of many established artists, signals the arrival of a musically serious guy who clearly means business. Dedicated to the memories of Ronnie Lane, I suspect Gary's' inspirations are far reaching. This is no collection of 'covers' though it does take you to places (no bad thing) that you think you may have been once or twice before. Tracks like "Welcome to the Show" – Bap Kennedy fans will like this one, "Early morning till the sun go down" – remember Timbuck 3 ? and "Little Miss Fortune" – well, I reckon Graham Parker wouldn't be too unhappy with this one. This is a quality production in my view and as I can already hear people saying "yeah and who are you then?" I'd find it hard to believe that there isn't something for everyone here. This one won't do ya CD collection any damage at all. American UK  www.americana-uk.com
Track list: 1: Dream On. 2: Slowdown. 3: Welcome To The Show. 4: You Oughta' Burn. 5: Summertime. 6: Out Of The Blue. 7: My Sweet Rita. 8: Way Back Home. 9: Early Morning Till The Sun Go Down. Little Miss Fortune. Wanna' Move.
CD CURRENTLY OUT OF STOCK – but you can purchase a digital copy of the Album or individual tracks from Gary's Bandcamp site http://garyodea-gojomusic.bandcamp.com/album/love-hounds-n-fortune-cookies
Two tracks 'Slowdown' and 'You Oughta' Burn' are featured on Gary's MySpace page – along with two from each of his other releases. Hit the link and have a listen. http://www.myspace.com/garygojomusic
Owing to the promotion of the film about Margaret Thatcher – The Iron Lady (starring Meryl Streep – released in Jan 2012) I'd like to highlight my own tribute to her legacy and recorded back in early 1990 by my band at the time The Love Hounds… it features on the Love Hounds n' Fortune Cookies album – the tracks called 'You Oughta' Burn' and is now available for listening on my MySpace page…accompanied by a pic of Arthur Scargill and me in Wolverhampton in 2010. 
Lyric segment…'You baited traps with peoples lives, dug your knife in deep in the back of the Unions spine, and this country's salt of the earth they got peppered by greed and lies – You Oughta' Burn for a long long time!