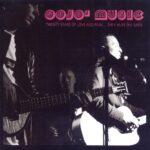 GOJO' MUSIC DEBUT EP/CD (co-produced by Martin Stephenson)
Twenty Years of Love and Pain…they hurt the same
 Described as…'Acoustically driven – blending together elements of classic chilled out grooves such as blues, funk n' soul with a contemporary twist – plus the passion and attitude of old school punk / rock n' roll to produce a rocking – groovin' – organic mix of rhythms to soothe your soul in these troubled times.'
 Martin Stephenson…'Working with GOJO' MUSIC seemed so easy because primarily, they all love what they are doing, know what they are doing and totally respect / love each other…it was a brotherhood – but make no mistake this is an enlightened band of brothers and that is why I served.
Thank you for the Brotherhood, Love, Light & Truth.'
 Martin Stephenson.
Reviews & Quotes
GOJO' MUSIC is the new moniker for the music of Black Country singer-songwriter Gary O'Dea. 'Twenty Years Of Love And Pain…They Hurt The Same', his latest four track EP sees O'Dea producing the most accessible and effective material so far. The opening track 'Tell Me Please, Is This How The West Was Won? is a slice of gently persuasive and hypnotic, funky acoustic-pop, which effectively dismantles the lies that surround the so called 'war on terror'. With production duties courtesy of Martin Stephenson, O'Dea is sounding increasingly confident and creating some of his finest material yet. Sean McGhee – Rock n' Reel Magazine – Vol 2 No 4 July / Aug 2007www.rock-n-reel.co.uk   
'The Black Country has never really been regarded as a musical hotbed by outsiders, but GOJO' MUSIC have produced an organic hot-pot of sound, fabricating some gorgeous grooves with soul, funk, blues and reggae influences, delivering them with the lyrical approach of a singer-songwriter and a hearty dose of punk rock attitude. From quasi-fragile ballads to the laid back groove (and almost hip hop produced beats) of 'Is This How The West Was Won' main man Gary O'Dea has a genuine conviction about his music and a passion that emanates from deep within. The EP was recorded in his living room to produce a truly authentic sound. This is DIY music at its purest.' Dave McTague – Another Late Night Magazine – June 2007. www.anotherlatenight.biz    
"Gary O'Dea – like your best mate with added talent, a singer/songwriter and cracking harp player discovered by Martin Stephenson… and the result is this EP…GOJO' MUSIC – thank you very much indeed." Janice Long – BBC Radio WM 2/9/06.
http://www.bbc.co.uk/birmingham/content/articles/2006/03/13/janice_long_feature.shtml
'GOJO' MUSIC…it's good stuff…I wish you all the best with it!' Joe Cushley – Uncut Magazine + Balling The Jack Show – Resonance 104.4 FM. London 22/8/06 www.resonancefm.com  
'GOJO' MUSIC'S EP is a brilliant piece of work! My favourite track is – 'Is This How The West Was Won?' DJAY BUDDHA – 'It's An Acoustic Thing' Radio Show. AFCollective Podcast. Bonnie Scotland. Dec 2006 http://afcollective.podbean.com
'Twenty Years of Love & Pain…they hurt the same' is 'well good'! Little Chris – Brumcast Internet Radio. Dec 2006.  http://ipodnetworks.com/Brumcast
'It's a fine piece of work, sort of part Tipton Clash – part Trumpton Daintees…good on ya' morra.'  Graham 'Shipcote' Anderson – Jumpin' N' Hot Club. Newcastle 20/12/06. http://www.jumpinhot.com
'Gentle, organic – but brilliant acoustic sound. All works – songwriting / performances / recording / mixing techniques are really excellent. Exactly what we'd hope for from all our 'home recording' musicians!' ZOOM Corporation – makers of the ZOOM MRS 1266 portable recording desk that the EP was recorded on. 1/12/06 www.zoom.co.jp  
'I think the lyrics and political sentiments of 'Tell Me Please, Is This How The West Was Won?' – are spot on. What a great track!' Alan Gubby – Nanny Tango Show – Blast 136AM Internet Radio – 22/8/06 www.nannytango.com & www.blast1386.com
 "Just what you need for one of those chilled summer night's, watching the sun go down – works a treat" Loyd Williams Show – BBC Radio WM 29/7/06.
"GOJO' MUSIC – Tell Me Please, Is This How The West Was Won?' – I think there's a message to us all in there". Claire 'Dicko' Dickinson – Koobaradio Internet Station – London 19/7/06. www.koobaradio.co.uk
'Political roots music from Wolverhampton. A little bit of Blues, a bit of Funk and lots of fine acoustic guitar playing.'  Dave Home – A Cool Noise – 11/7/06. http://www.coolnoise.co.uk/2006/07/11/have-i-got-noise-for-you.html
'Gojo Music are Gary O'Dea, Garry Oliver, Eric Cox and Andy Stokes, this 4 track CD was produced by the ever wonderful Martin Stephenson who brilliantly describes Gary thus 'If Brian Clough had spent a little time in Greenwich Village with Ginsberg & Dylan, he could've turned out like Gary O'Dea!' 'Tell Me Please Is This How The West Was Won?' is the first of 4 tracks and is a protest at the USA's involvement in Afghanistan, the mix is funky roots with an edge that mixes in blues, grooves and folk. Tipton's finest.' Graham Radley – World Unlimited http://www.worldunlimited.freeuk.com/reviews/enter.htm
'Bluesy acoustic swamp rock from the heart of Tipton. Frontman Gary O'Dea and bandmates Garry Oliver, Eric Cox and Andy Stokes recruited former Daintee Martin Stephenson to record and co-produce their four track EP. The songs meander in a satisfying manner, with an undercurrent of old school punk.' Andy Coleman – Birmingham Evening Mail 8/7/06.   
'It's a great track and I'm glad the film made an impact on you. Thanks for the CD hope it goes from strength to strength.' Malcolm Brinkworth – Touch Productions (producer of the Afghan Warrior documentary broadcast on BBC2 that inspired the song 'Tell Me Please, Is This How The West Was Won?' http://www.touchproductions.co.uk/films.html  
'Sporting a mission statement that describes them as a blend of funk, blues, soul and reggae with the attitude of punk, GOJO MUSIC is the latest project from Tipton based singer-songwriter Gary O'Dea. A four track EP produced by Martin Stephenson and featuring the liquid guitar of Garry Oliver, Twenty Years of Love & Pain…they hurt the same marries angry protest and world weary hope. Inspired by the story of the late Afghan freedom fighter Abdul Haq, Tell Me Please, Is This How The West Was Won? is a brooding folk-funk groove questioning America's involvement and agenda in Afghanistan while (Get Me On A Bus To) Betterville is a bluesy, harp wailing, slow train chugging song about depression, Distant Friend is a gently strummed folk-blues song about a breaking relationship (Stephenson's influence apparent in the Northern lights ambience) and Time Out a six minute lay back and chill number that name checks both Hoagy Carmichael and Sweethearts of the Rodeo'.
'…O'Dea's voice…(Mick Jones and Steve Winwood, are the two names mentioned in the blurb), but it does a decent enough job furthering his reputation as the Joe Strummer of Tipton!' Mike Davis – The Beat.  http://www.roots-and-branches.com/the_beat.htm
"Regarding Gary O'Dea's musical dabbling's in the past, the songwriting has always been good – but these are really good…in fact they're bloody excellent!" 
Steve Morris Roots-and-Branches Radio Show, WCR 1350 AM/KHZ (Wolverhampton) 15/6/06. www.wcr1350.co.uk
Also here's a link to an interview on the BBC web site regarding the release of the '20 Years of Love and Pain' EP. 
Track List: 1:Tell Me Please, Is This How The West Was Won? 2; Distant Friend. 3: (Get Me On A Bus To ) Betterville. 4: Time Out.
CD CURRENTLY OUT OF STOCK – but you can also purchase a digital copy of the EP or individual tracks from Gary's Bandcamp site http://garyodea-gojomusic.bandcamp.com/album/twenty-years-of-love-and-pain-they-hurt-the-same-ep-cd
Two tracks 'Tell Me Please, Is This How the West Was Won?' and 'Distant Friend' are featured on Gary's MySpace page – along with two from each of his other releases. Hit the link and have a listen. http://www.myspace.com/garygojomusic