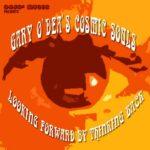 LOOKING FORWARD BY THINKING BACK
(limited edition) CD/Album 2012
Dedicated to the memory of Ronnie Lane, Steve Marriott, Joe Strummer and Levon Helm
A reworking of some of Gary's back catalogue, this limited edition album will act as a reintroduction / re-launch nationally of Gary and his songs. It is to be followed by a new solo album of unrecorded songs entitled FLY to finally get back on track. 
'Marking the return of the Tipton singer-songwriter and the official launch of their Looking Forward By Thinking Back (Gojo) album, a collection of band reworks of numbers from his back catalogue of blues, country, soul and  rock n' roll.
Mandolin shuffle Sittin' On Your Fence will certainly warm the hearts of Slim Chance fans, while elsewhere there's the Van Morrison-like Way Back Home, acoustic slide guitar blues  Big City Blue, the mellow folk groove of Distant Friend, You Oughta Burn's Guthrie-esque roots rock  and, conjuring Martin Stephenson while referencing The Clash, My Sweet Rita.  The album title itself comes from the final track, the reflective acoustic Driftwood, making its first appearance on disc since being written 22 years ago. Even better news for those who've long regarded O'Dea as one of the country's finest unsung talents, he's also working on an album of new material, Fly, for release next year, so a possible sneak preview may be likely.' Hare & Hounds, Kings Heath, Birmingham (support to Slim Chance) Oct 25th. Mike Davies http://www.mybrum.co.uk/article/birmingham-gigs-1  Oct 2012.
LOOKING FORWARD BY THINKING BACK – Homegrown & Wholesome (a review)
It seems that for every sorrowful hand, the dealer slips us an occasional ace, to throw a degree of balance, I guess, into our, at times, comedic tragedy of an existence. The postman, who far too often is the bringer of woe, today is a messenger of joy – for the enclosed CD " LOOKING FORWARD BY THINKING BACK " has been, obviously, crafted with love and care – as well as a total lack of egoic pretence. It physically feels and appears " homegrown and wholesome " in my grateful hands. Looking Forward By Thinking Back is a collection of 14 of Gary O'Dea's finest songs. Big City Blue gets us off to a wonderful start and is followed by Distant Friend, which has always been a personal favourite song of mine – the very first song I ever heard Gary play live many years ago.This is a new, more mature, unforced and relaxed Gary O'Dea. An artist who has served a long hard apprenticeship and has honed his craft to suit his own charming, unique style.
Out Of The Blue swings and sways along like a Van Morrison classic, a fabulously crafted song.Time Out is heavily influenced by Gary's dear friend and inspirational artist Martin Stephenson – it also has a kind of Noel Gallagher meets Paul Weller flavouring in its " English Blue Eyed Soul " melody and lyric, together with a wonderful folk / pop sensibility.Searching For Sal has me completely hooked. Gary O'Dea is a great songwriter. He has savoured and digested so many fabulous influences throughout his musical career and he brings them all to the table in his own inimitable way.
Little Miss Fortune (a delicious play on words) is as intelligent a song as the clever title would suggest. The message is delivered beautifully " She's addictive, she's a drug that's shooting through my veins " such a great song, I have just had to give it a second spin before moving on to Slow Down, another great piece of social commentary which is a natural forte of the Tipton Troubadour. You Oughta' Burn is a sensational attack upon the evil, immoral policies of Margaret Thatcher, echoing back to my comment about the social conscience of a true "Working Class Hero"
Way Back Home and My Sweet Rita are real songwriters songs which could quite easily have been penned by Van Morrison, Elvis Costello, Bob Dylan or our own Martin Stephenson. Singapore Joe lifts us right back up with its great " Boogie Woogie " flavouring – a fantastic toe tapper of a song.
There is a lovely wee instrumental Interlude before laughter leads the way into the joyous Sitting On Your Fence – another song which I defy anyone to listen to without wanting to get up and dance – brilliant stuff.
Driftwood brings the album to a fabulous conclusion. It contains the lyric " Looking Forward By Thinking Back " and feels like a truly cathartic, soul cleansing song.
Yes, this is a collection of lovely songs… Excuse me while I hit the replay button !
Pete Shields – Candlelit Music Promotions
Hit the link for an album review from Frank J Wilson @ Hand in Glove http://handinglove.co.uk/gary-odeas-cosmic-souls-looking-forward-by-thinking-back/
The album is available in CD format and can also be downloaded (whole album or individual tracks) from Gary's Bandcamp page http://garyodea-gojomusic.bandcamp.com/releases