GOJO' MUSIC presents musician / singer / songwriter
Gary O'Dea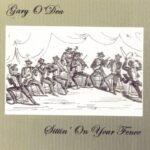 CD/EP: Sittin' On Your Fence (2000)
"A Romping, Raucous, Stomping, Country Rocking, Anglicana, Seedy Blues Infested – HULLABALLOO."
The EP was originally released via the Birmingham based 'Snooks Records / AnewMusic' label in 2000. Now re-released in 2007 via Gary's own GOJO' MUSIC label. The CD/EP features guest appearances by such luminaries as Steve Gibbons, PJ Wright and Gary Lammin.
Review / quotes:
'Gary O'Dea…the only man I know who can touch on WOODY GUTHRIE / BOB MARLEY / RONNIE LANE + STEVE GIBBONS in the course of one set!' Highway 61 Web Site.
'GARY O'DEA – keeps the roots watered with his Black Country Americana folk blues…grazing shades of back porch n' bluegrass…' The Beat.
'…independent, enthusiastic country/blues. Only this isn't Alabama country, it's the Black Country…O'Dea clearly takes his music, but not himself, seriously, the writing and playing being consistently strong…a warmly humorous slice of bluegrass… Dylanesque… impassioned …the whole band are in top form putting across woozy urban cool…All in all, well done to everyone concerned, including Anew Music for giving a home to the Wild (West – Midlands) Bunch.' Revolutionsuk – Roots Music Web – Site.
'GARY O'DEA – songsmith and purveyor of fine musical fare to all who'll listen, once again excels on his 'Sittin' On Your Fence' EP. Harmonica, acoustic guitar, fiddle, slide, banjo, tea-chest bass and a wonderfully wild chorus injects the title track with spirit and freshness. (Black) Country music they call it, and it succeeds admirably. With the likes of Steve Gibbons and P J Wright guesting, you hardly need any further recommendation.' Rock n' Reel.
"…a refreshing piece of original work." Stuart Cameron – Country Hotdisc + Radio Caroline DJ.
'I have to admit my music taste is more traditional country but…your music grew on me… really enjoyed the musicians on the tracks. Big City Blue hits me as my favourite track here, the piano and harmonica are terrific. I'm sure these tracks would get radio play in the UK and USA if the right people get to hear it. Show the world what talent there is over here.'
Iain Dobie – Country Music in Britain web site.
'The Black Country can definitely say they have a singer / songwriter to be proud of in the shape of Gary O'Dea.' North Country Music.
We received Gary O'Dea's "Love Hounds and Fortune Cookies" a few months back, an open hearted collection of Steve Earle type numbers with infectious guitar and up-tempo piano that you couldn't help but like. "Sittin' On Your Fence" is the more recent follow up to the album, and although only a four track EP, still marks itself out as a worthwhile successor, at least on the quality of the songs themselves. It's a more rootsy and traditional country orientated collection of songs than its predecessor. Beginning with the EP's title track " Sittin' On Your Fence" storms along with some biting fiddle and a rousing semi-chorus which becomes more vocal as the track progresses. It's the best song here, but pretty representative. Next up "Singapore Joe" is nicely arranged, with a very angst O'Dea fleshing out characters well. "Searching For Sal" lets the pace a little and introduces some great lap steel with a slightly leftfield rhythm for a country song, and the EP climaxes with the smoky and Dylan-ish "Big City Blue" with the real deal as far as harmonica goes. It's still incredible to think O'Dea comes from suburbia Birmingham but it's significant that he's probably received more airplay in the States (several radio station picked up on "Love Hounds…" over there) than here. For lovers of Americana and real country, that should be as good a reason as any to go out and discover the guy, and this EP is a good place to start.'  Americana UK                                                                                           www.americana-uk.com       
Track list: 1: Sittin' On You Fence. 2: Singapore Joe. 3: Searching For Sal. 4: Big City Blue.     
CD CURRENTLY OUT OF STOCK – but you can also purchase a digital copy of the EP or individual tracks from Gary's Bandcamp site http://garyodea-gojomusic.bandcamp.com/album/sittin-on-your-fence-ep-cd
Two tracks 'Big City Blue' and 'Searching For Sal' are featured on Gary's MySpace page – along with two from each of his other releases. Hit the link and have a listen.  http://www.myspace.com/garygojomusic