Last night at the Hare & Hounds in Kings Heath, Birmingham was a bit surreal for me. First of all I'd only found out from a free copy of The Birmingham Evening Mail last Friday that Ian McLagan was playing there, secondly I couldn't believe he was playing there, and then last but by no means least…I couldn't believe the intimate nature of the gig and this legend of a musician from two of Britain's all time greatest bands was there in front of me, in touching distance (I must sound like a screaming school girl lol :-)…
I didn't scream, but I could have cried with joy) in the upstairs acoustic room of one of Brums last remaining wonderful old pub / music venues.
It was a great night, Mac regaled us with songs and story's from his days with the Small Faces, Faces, and then as a journeyman / musician with legendary notables such as The Rolling Stones (first time I saw them at Wembley in 1981 – Mac was on keyboards with them alongside the great Ian Stewart on piano), Bob Dylan, Rod Stewart, Bonnie Raitt and Billy Bragg.
He started off the set (it was just Ian on keyboards to start) with a song he'd written about Ronnie Lane, called 'Hello Old Friend' – it set the tone. He was then joined on bass and vocals by Jon Notarthomas from the Bump Band – and they got the whole room singing along with 'Cindy Incidentally'…it was a wonderful night…and to quote Max Boyce…'I Was There'…either that or 'I'm Only Dreaming'…but here's the pictorial evidence…anyone who knows me and my musical influences knows what The Small Faces and The Faces mean to me…I met Steve Marriott at JBs old club in King St, Dudley back in the 80s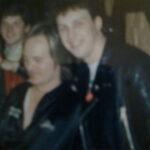 …that was a thrill…I did a little Ronnie Lane pilgrimage to his farm and various pubs around the Hyssington and Bishops Castle area…and that was a wonderful day – see the pics https://www.gojo-music.co.uk/pictures/ronnie-lane-pilgrimage-21-6-12/…and then to get to see and meet Mac last night was a complete joy 🙂 …God Bless em all…the Afterglow will remain with me forever.