The Rhythm, Reading & Rhyme Sessions – Sun 10th Dec – The Wellington, Bennetts Hill, Birmingham @ 4pm – Tickets £5.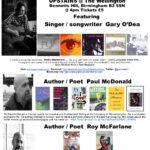 Singer – Songwriter Gary O'Dea
'a cracking songwriter and singer.' Martin Stephenson … 'like your best mate with added talent.'' Janice Long BBC Radio WM…
'a songsmith and purveyor of fine musical fayre to all who'll listen…an artist of considerable class and distinction.'
Sean McGhee Rock n Reel Magazine
Plus Special Guests Poets and Authors
Paul McDonald is Course Leader for Creative and Professional Writing at the University of Wolverhampton. He is a novelist, poet and critic. His primary interest is humour, and he takes a perverse pleasure in the fact that Googling, 'the oldest joke in the world' throws up several hundred pages with his name on. https://www.amazon.co.uk/Paul-McDonald/e/B001JS7654/ref=dp_byline_cont_book_1
Roy McFarlane was born in Birmingham and now lives in the Black Country. He has held the role of Birmingham Poet Laureate and Starbuck Poet in Residence. His writing has appeared in
magazines, Under the Radar, The Reader, The Cannon's Mouth and The Undertow Review. His poems have been included in anthologies, Out of Bounds (Bloodaxe 2012) and he's the co-editor and writer for Celebrate Wha? (Smokestack 2011). He's also written a play For the Love of Auset which premiered at The Drum, Birmingham, June 2007 and his short story Conversation with an Ant has also been published in Original Skin. http://roymcfarlane.com/
Gary, Paul and Roy in a performance of Songs, Poetry and Readings from their contemporary works. Taking place in the UPSTAIRS ROOM above the firsr floor bar. Limited tickets are available and are £5 each so please be early booking to avoid disappointment. It starts at 4pm.